Overview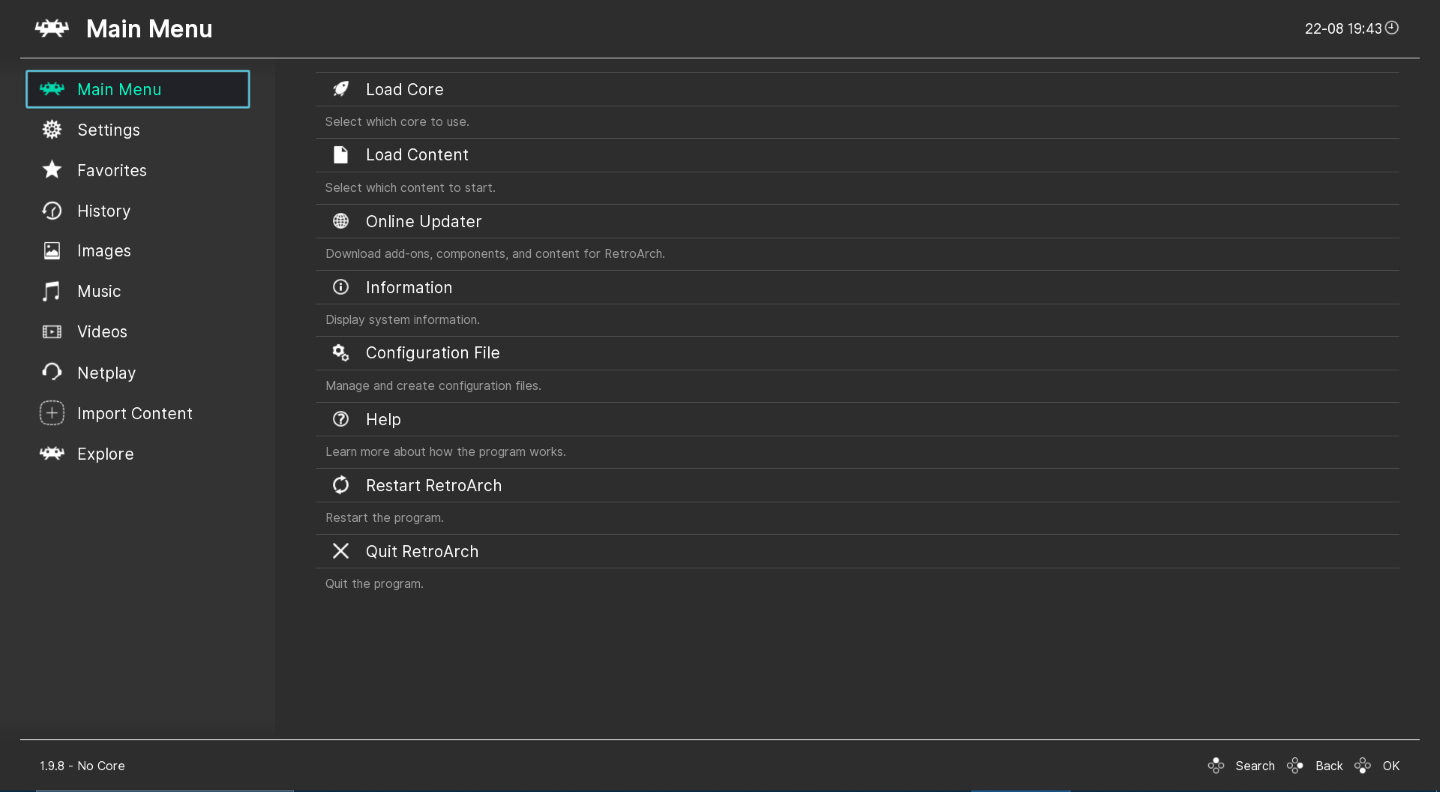 When you launch RetroArch for the first time, the interface looks like this. There are 8 tabs:
Main Menu: perform important actions like launching a game or quitting the program.
Settings: to configure RetroArch
History: your games history list
Images: your images history list
Music: your music history list
Videos: you videos history list
Netplay Rooms: find game sessions hosted by other gamers and join them.
Add: this tab lets you scan your game collection to generate per system playlists. Playlists will be added as new tabs on the right.
Integrated downloads
In Main Menu->Online Updater you can download and update all the required or optional components for RetroArch.
This includes:
Libretro cores: emulators and game engines.
A game database: used by our scanning system to build playlists and display the games metadatas.
Game thumbnails: boxart, title screen, in game screen, for each system.
Controller profiles: automatic mappings for common gamepads, joysticks, and other game controllers Read more
Cheats: cheats for the most common games.
Shaders: video filters to apply on the game screen. Read more
Content downloader: Free games and other downloadable content.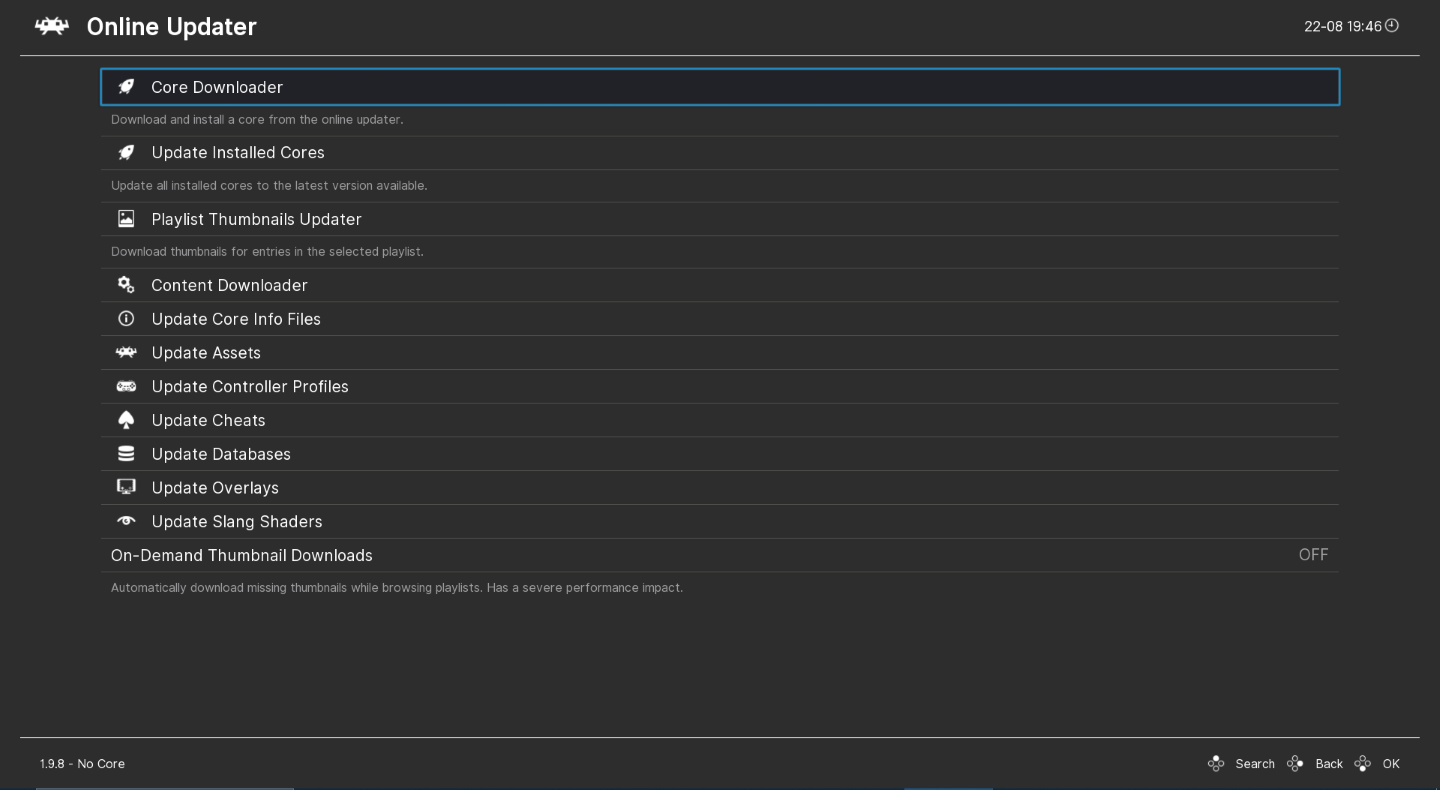 Fully controller driven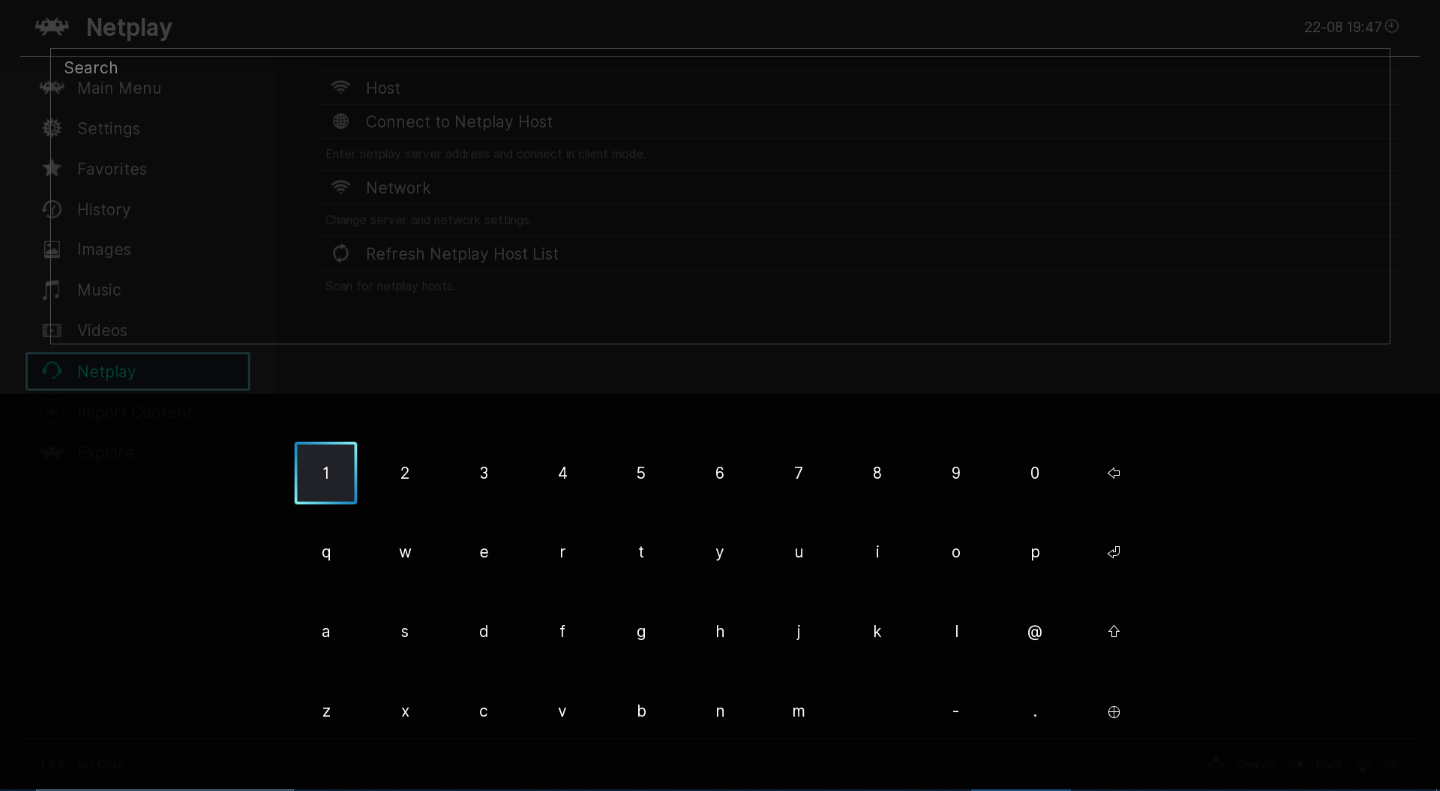 In the RetroArch GUI, game controllers are the preferred way to navigate. You can perform every action using the controller, including launching games or triggering the RetroArch menu from the active game.
When you need to type text in the settings interface, a multilanguage On Screen Keyboard will be displayed to let you type words and passwords with your controller or touchscreen.
The menu has been designed as an immersive experience: you will not have to switch from your controller to your keyboard to perform actions using the menu while your game keeps playing in the background.
Playlists
You can add new playlists to the GUI by scanning your game collection. Games will be sorted per system. You can also write your own playlists manually to display a list of your favorite games, or any list you can think of.
Playlist entries can be associated to a database entry to display the metadata of the game: Release Year, Genre, Developer, Number of Players, etc.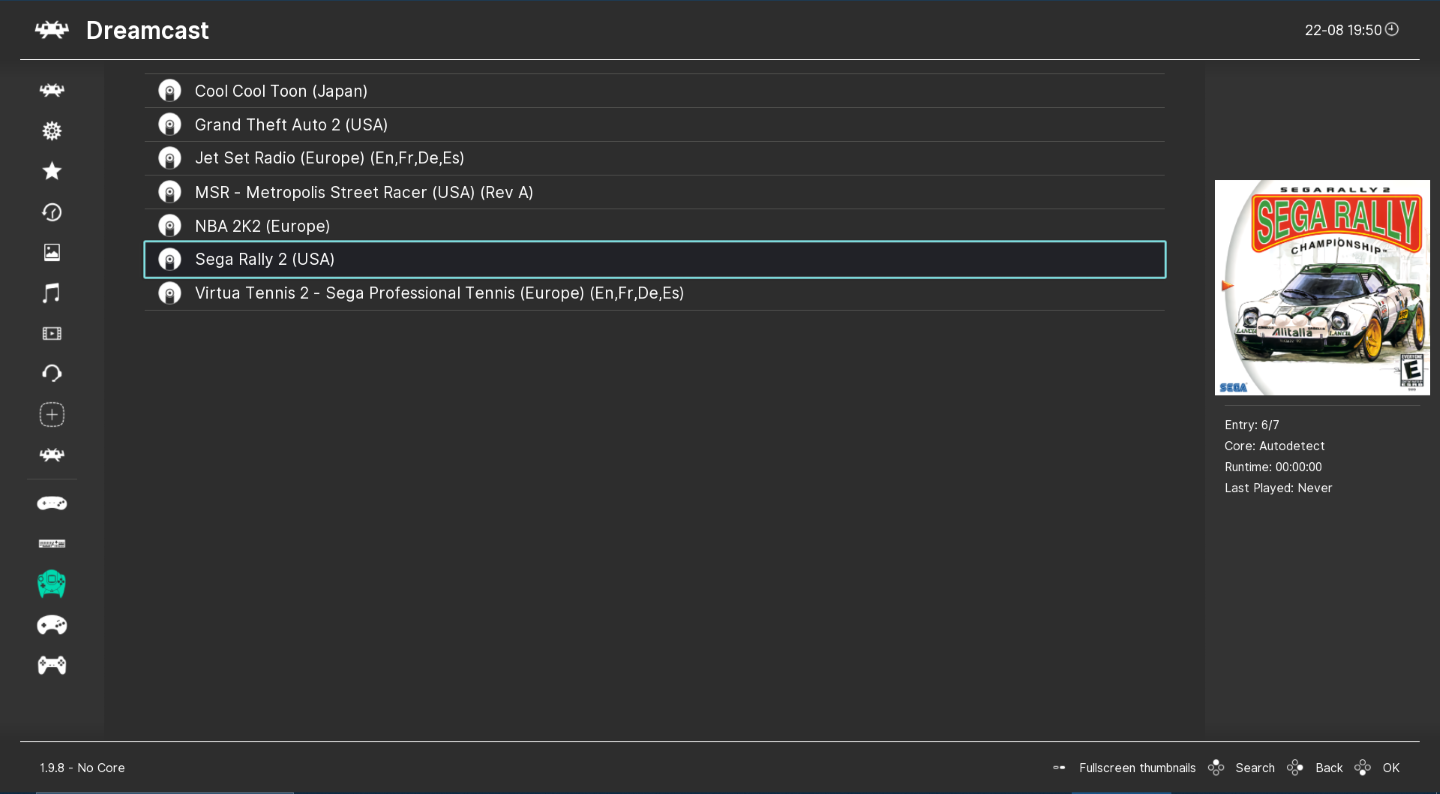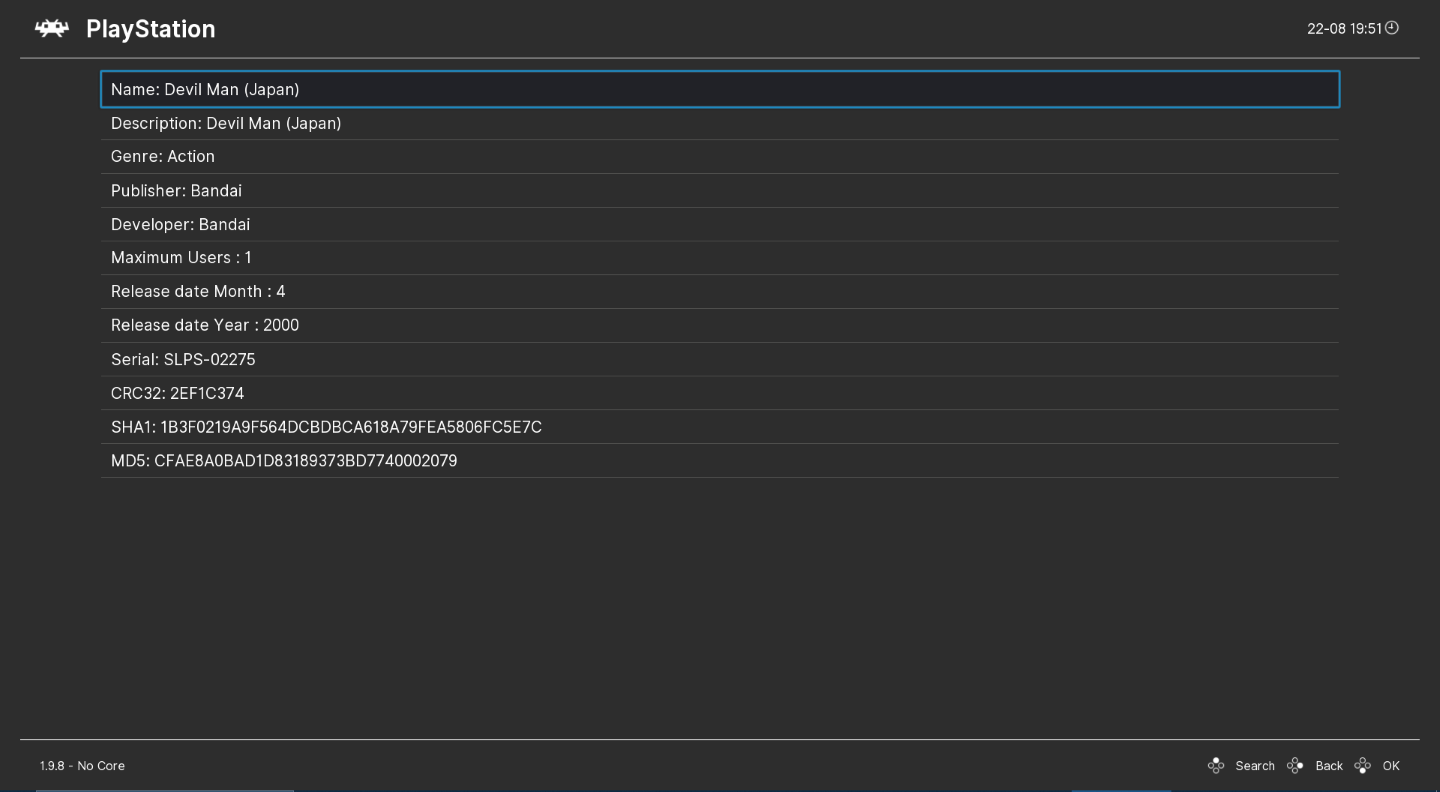 Customizable
Customize the RetroArch GUI with options for thumbnails, dynamic backgrounds, shadows, animated backgrounds, icon themes, and more!